The Jurassic-themed exhibition has been extended in D.C so you can enjoy it all summer long! With over 80 specimens of life-sized moving replicas such as T-rex, Stegosaurus and Ankylosaurus, this exhibit promises to give you an out-of-this-world experience.
And tickets are available for purchase here!
The Dinos Alive exhibition will transport you back millions of years to an age where the largest animals to ever set foot on our planet existed. You will go on a fascinating journey where you get to meet and interact with massive, life-sized moving dinosaurs.
It is a blend of moving replicas of dinosaurs and virtual ones. There will also be a unique virtual aquarium that takes you on a dive deep into the depth of the seas where you get to experience what it's like to be in the presence of some of the most magnificent sea giants!
Get your tickets to see structures of a T-rex, Stegosaurus, Velociraptor and more!
At the Dinos Alive exhibit, kids can enjoy a "Budding Experts" interactive space, where they can become paleontologists and tame the most iconic dinosaurs!
Here are what some visitors had to say about the exhibit:
"My grandkids and I loved everything about Dino Live. The whole scenery, and setup was amazing also realistic. And above all it taught myself and the kids a lot about dinosaurs." -Jacquline M.
"It was fun ! My daughter enjoyed herself immensely. Perfect family friendly activity that'll wear the kiddos out." -Keisha C.
"The dinosaur 's were absolutely life like. The interactive experiences were really interesting and accessible for kids. My 5 yr old grandson had a great time and so did I." -Nancy D.
"WOW. This was an excellent experience. Quote from my four year old grandson. 'That was Super Dino-rific.' Cannot get any better praise than that." -Den A.
You can also take a piece of the exhibit home with you by visiting the giftshop at the exhibit and you can snag extra items at the online giftshop with tote bags, magnets and even Rawesomely adorable dinosaur mugs!
All ages are welcome to the exhibition which runs for about 60 to 75 minutes. Snag your tickets to the exhibit which has been extended until September.
Set out on a quest to discover the Triassic, Jurassic and Cretaceous periods in the most engaging and fun way possible and
snag your tickets
!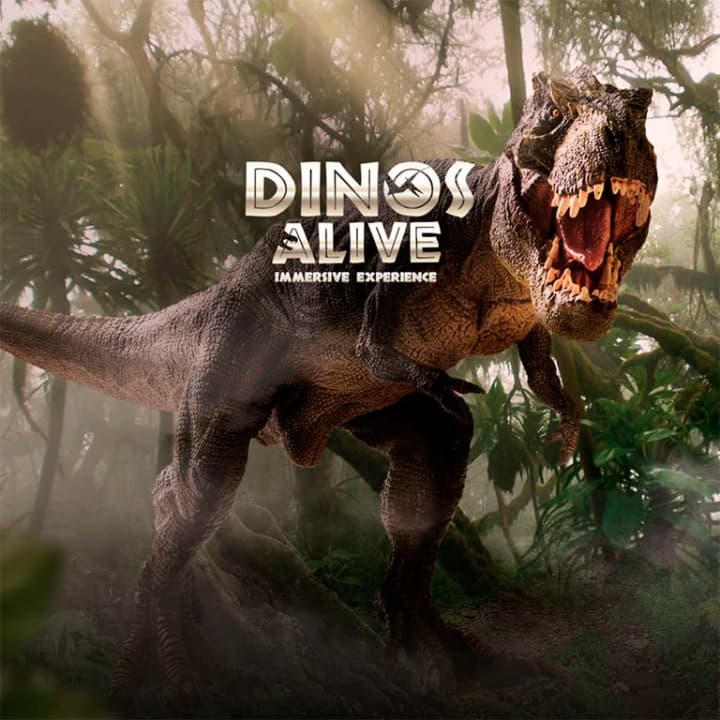 Dinos Alive: An Immersive Experience
---